Statistically, 90% of Startup Businesses fail, that's nine out of ten. Your business' success does not derive from how hard you work "in" your business but how much you work "on" your business. Fernencial Corporate Finance has a streamlined process to prevent business failures and sustain business stability with a competitive edge.
Whether you are a startup or an established business, you need Fernencial's business and/or marketing plan that leverages time and money in order to take your business to the next-level. Our business consulting helps you to: leverage and design an efficient business model, increase revenue and profits, learn marketing and business tools, extend your reach to find your market niche(s), create a cohesive action plan to boost your business, and think strategically about your business vision and projects.
We believe in transparency, below is the conceptual process of our profitability method that will be customized to create specific strategies, methods, plans, structures, systems or tactics for your business or organization: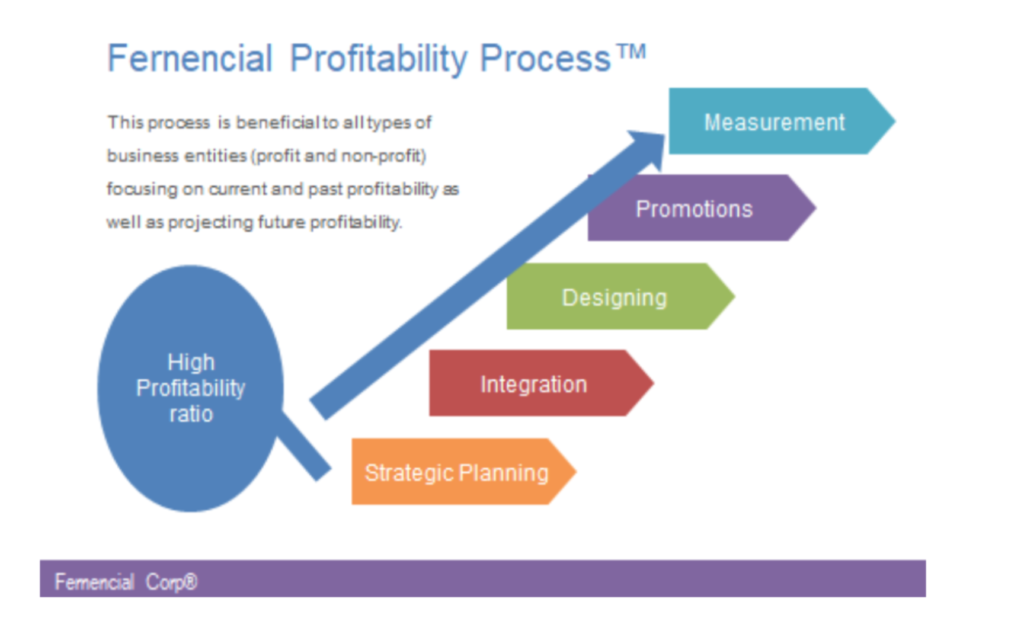 Our services include, but not limited to:
Business planning and strategy

Service/product offerings and pricing strategy

Business short-term and long-term direction
Delegation/dealing with staff and sub-contractors method
Traditional marketing planning
Internet marketing planning
Social media marketing
Project planning
The Business Consulting Program includes: 90-day period, 10 phone call sessions (60 minutes each) and 10 hours of email support including document review.
If you are ready to take action and improve your new or existing business plan, we offer a free 45-minute telephone/skype conversation in order to determine which program is right for you.