Business Coaching/Mentoring
Why do you need business coaching/mentoring? Because it is one of most the essential keys to your organizational success. Here are the statistical facts regarding business coaching: An average of ROI of 5.7 times the initial investment, productivity increases by 53%, quality increases by 48%, organizational strength increases by 48%, customer service increases by 39%, customer complaints reduce by 34%, cost reductions by 23%, bottom-line profitability increases by 22%, working relationship with clients increases by 37%, working relationship with peers increases by 63%, teamwork increases by 67%, and conflict reduction by 52%. Note: the statistics cited are subject to change over time. Fernencial Corporate Finance goes through a streamlined process of exploring your mindset, perspective and vision of your business in order to create a pathway that breaks through all barriers to success. We believe in transparency, below is our conceptual process: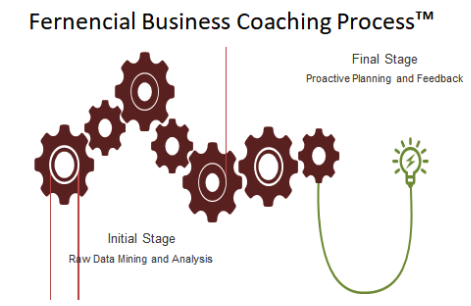 •Maintaining a sound and stable business structure
•Planning applicable course of actions.
•Embracing organizational changes
•Mastering time management
•Creating a culture of accountability
•Dealing with self-sabotage
•Supporting system
•Productivity driven
•Improving confidence
•Brainstorming strategic directions
The Business Coaching/Mentoring Program includes: 60-day period, 10 phone call sessions (45 minutes each) and 5 hours of email support including document review.
Fernencial Corporate Finance is extraordinarily committed to learn about you and your business in order to create an effective coaching/mentoring plan that supports your business goal(s). If you are ready to take action and improve the health or performance of your new or existing business, we offer a free 45-minute telephone/skype conversation in order to determine which program is right for you and your business.